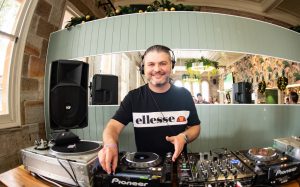 Benjamin Hayes started DJing in 1997, producing in early 2003 and has had the opportunity to play at major dance parties across Australia and internationally in USA, New Zealand and the UK.
Haze is the owner and label manager of Executive Records, Executive Digital, Recycled Records and Recycled Digital. He uses these outlets to push his productions, and the productions of other Australian artists around the world.
Haze's early beginnings started with Breakbeat, Jungle and Drum & Bass. His musical influences come from producers from the infamous Moving Shadow, Reinforced and Kniteforce labels to name a few.
Production wise Haze now focuses on the sounds of yesteryear with tracks ranging from 130bpm to 170bpm in either early Hardcore, Breakbeat, Jungle or Drum & Bass.
Renowned for his scratching abilities and tight mixing his 25-year DJ career has given him the experience to deliver a mind blowing set each time.
Be prepared for an energetic hardcore set that Haze is renowned for with plenty of new tracks fresh from the studio!