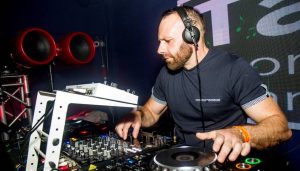 One of music's answer's on one of life's missions.
Influenced by music growing up in the 80s & 90s music has had a firm place in my heart. My journey into dance music started like many others, In the record shop, Saving every penny every pound to buy them new records and your rave ticket!!! Amazing time to be alive! Soon would be playing at local bars and friends partys ,anywhere we could play our music loud. Lucky enough got a break on pirate radio and haven't looked back.. Finding my sound has lead to djing up and down the country, Amsterdam & Ibiza, Egg club, Pacha, Supper club, Pozition, World Head Quaters, Solstice
Starting 2022 with a bang I am humbled and proud joining such a fantastic team and marching forward with Eruption radio.
You can join the show every Monday from 2 till 4pm where we get experimental with all things house music, digital & vinyl old and new…