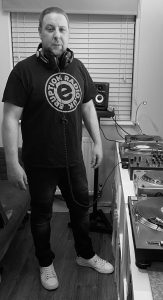 As a teenager, after finding the sounds of Impact FM, Weekend Rush and Pulse FM, I soon started collecting records and the Rave scene became a big part of my life.
After teaching myself to mix, on some old belt drive turntables, I continued to extend my record collection and eventually had the opportunity to play on some of London's biggest Pirate stations (including Rude FM, Origin FM and Eruption FM) alongside some of my favorite DJ's that i had always aspired to be as good as.
I have enjoyed playing out at some small events, and for some well-known rave promoters alongside some big names over the years. What a great hobby to have!
Once I heard about the Lauch of Eruption DAB, I had to get back on the airwaves as I had enjoyed my time playing on this well-established station previously in my earlier days.
Catch me bringing you the Oldksool vibes and banter on a Sunday afternoon.
Keep it locked.