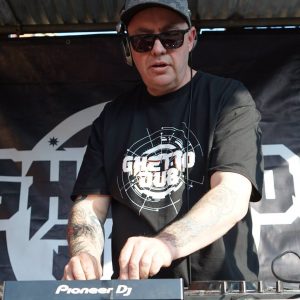 Vinyl Junkie from Bristol. Est. 1991
Junglist DJ / Producer / Label Boss…
Hardcore / Jungle / Drum & Bass.
Vinyl Junkie has played for some of the underground's mightiest promoters such as Universe, Fantazia, Raindance and Jungle Fever (as well as many, many, more). He played in the main arena at the first Tribal Gathering in 1993 alongside some legendary acts like Fabio, Grooverider, Carl Cox, Kenny Ken and Jumpin Jack Frost. He has also become a regular fixture at Glastonbury Festival having played numerous prime-time sets in the Temple, The Cave and Salon Carousel. He kick started the Banghai Palace at Boomtown (b2b with DJ Resist) in 2015 being the first DJ's ever to play on the now Iconic stage.
Owns Warehouse Wax Records and co-owns Ghetto Dub Records with his partner, Rachael EC. When it comes to DJ Sets John is not easily pigeon holed as he play a plethora of different styles and tempos within the boundaries of the Jungle / D&B and Hardcore genres and even ventures into a bit of Acid House & Techno on occasions.
Now a member of the Eruption Radio family. Catch him Every 4th Sunday at 8pm – 10pm playing a fine selection of Jungle / D&B / Hardcore, old & new, on Vinyl & Digital!
PS. John has also  recently launched a record shop selling new and upfront vinyl: http://www.vinyljunkie.uk