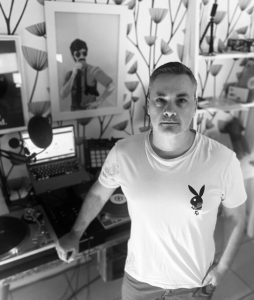 The first rave I ever went to was Dungeons on lea Bridge Road, from there I was hooked on the vibe and the music.  Not long after, I bought my first set of decks, a pair of belt drive Soundlabs and a Vestax mixer.  The first record shop I went to was on Wood Street, Walthamstow.  I don't remember the name and it wasn't open all the time, but I remember the first 12 inch I bought from there, which was Shut Up and Dance's 5'6'7'8, which was a game changer.
I bought a pair of Technics 1210's and a Gemini Scratch Master not long into 1991.  At the time I was regularly going to Camden Palace on a Friday night, sometimes the Rocket on a Saturday and occasionally Astoria.  Along with the weekly raving was also the weekly hunt for the tunes I was hearing while out raving or on the pirate radio stations.
In 1992 the music was changing; the BPM was increasing, and Jungle had evolved.  I gave a mix tape to a mate, who knew 'Miley' from Defection Fm, this opened the door for me to play a few slots on their station on Nightingale Estate, with the likes of Mix Master Max, Lieutenant Stitch, Force of One Crew.
I kept mixing until about 95 and then had a long hiatus for about 20 years.  During this time, I never stopped listening to the music I love and have enjoyed how its kept evolving.  After moving to Australia with my family, I couldn't resist getting back into mixing Drum n Bass/Jungle again.  For the past year, I have been playing DnB/Jungle on Sunrise Fm & DnB radio.
I am extremely privileged to now be playing on Eruption Radio, catch me 12AM to 2AM every Sunday Morning, playing all flavours of fresh DnB/Jungle.