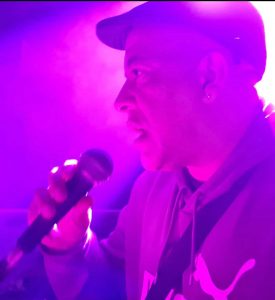 Started on Eruption 101.3 back in 1993 (originally just went to the studio to help Skeme out with the pager one week but loved it and found myself making up lyrics, was asked by management if I could come back the following week which i did and found myself fully into it!)  Spent most of my time at work from then on thinking up lyrics in my head for the weekends show lol.
MC'd at Eruption Birthday bash at Labrynth which was my first time playing out. From then on, I just continued up the ladder MC'ing. MC'd at Elevation Payback 95 alongside MC MC & Stevie Hyper D, also did Moondance, Dance Explosion and many others.
I had the pleasure to attend Kiss FM studio to record an advert for Elevation.
All got a bit too much for me in the end when I had two gigs in one night and decided to call it a day. I'd reached the top, something I didn't even set out to do!
Since 96 have only appeared on guest shows with Skeme but love being part of the new (and old) Eruption family and contribute regularly to jingles and the running of the station.
Skeme and RJ Vibes 17th July 1994 Jungle
Some flyers of events I MC'd at