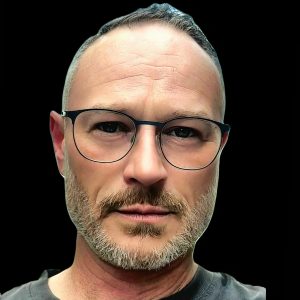 J-Bass, a Breakbeat aficionado, DJ, and producer, has been an active force in the music scene since 1992. Born in 1973 and raised in London, England, he developed a passion for music in the early '80s, gravitating towards emerging synthesised, Electro, and early Hip-Hop sounds.
In 1988, as the UK embraced Acid House, he frequented iconic raves like Energy and Biology. His love for early House, Hip-House, Techno, and Hardcore Breakbeat grew.
In 1992, he hosted a successful radio show on London's Touchdown FM pirate station for two years. He was the MC for DJ Sly-T, known for producing Hardcore Rave anthems, "Help Me" and "Underground Confusion," released on Black Market Records.
From 1992 to 1993, he worked as a Tape-Op at the world-famous Rollover Studios in London and, under the alias Fluid, produced "Lubricant," which gained recognition as a Hard House anthem and featured at No. 19 in the Billboard Magazine Dance Chart.
He established Born Idle Records in 2003, which featured releases from international Nu Skool Breaks artists, and has been a driving force behind promoting the Breaks sound worldwide. He has performed in the UK, USA, Canada, Spain, France, Germany, Czech Republic, Poland, Slovakia, Croatia, and Romania.
In 2004, he played a pivotal role in the success of ibreaks.co.uk, an influential internet radio station. His "Born Idle Radio Show" gained an international following and was nominated for the Breakspoll 2007 Best Radio Show award. During this time, he also produced tracks as Code Red and for record labels, Vive Music and ibreaks. Several productions and collaborations received acclaim from DJ Magazine, Mofo, and iDJ Magazine. Icons, Annie Nightingale, Plump DJs, Orbital, and The Freestylers have supported his projects.
Following a decade out of the music scene, J-Bass has returned to the airwaves with a weekly show on Eruption Radio UK, where he showcases underground Hardcore Breaks, both new and old with occasional special guests.