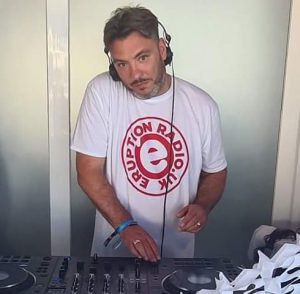 Got into the rave scene through listening to the pirates in London in 1988. Started going raving in 1991 and started at Rage and went out pretty much every weekend and a few week days for about 7/8 years. Favourite venues were Astoria, Roller Express and Atomics.
Got into DJing in 1992 and have had weekly shows on various pirates over the years, including Trouble FM (Portsmouth), Soundz, Force & Eruption 101.3 and played on Worldwide FM, one of the first internet radio stations. Playing for promoters including Moondance, Epidemik & Absolute Oldskool and represented Eruption at Slip Back In Time in Ibiza 2022.
Moved into the breaks scene in the 2000's and had a show on Breaks FM, putting out 2 tracks; Crank on Bassrock Records and Greed (with King Yoof) on Mechanoise.
Now host 'The Antiques Rave Show' on a fortnightly basis on Saturday's 22.00-24.00 on eruption, playing oldskool hardcore, acid house, hardcore jungle & Jungle Techno. The cover shows I do are Tech House.