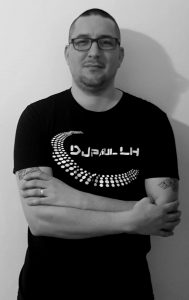 I originally started DJing in 1991 at the age of 11, my first DJ name was DJ Hogie (don't ask) I first linked up with some of my old crew and we use to DJ at house parties all around Northampton. I then became part of a local sound system in 1997 and I was given the name DJ Skratch.
I was a Garage and House DJ for the sound system for a while, we DJ'd around Northampton including at the Social Club which has now been knocked down, and local bars. I still DJ around Northampton to this day in various pubs, clubs and bars. I also spent a couple of years DJing in Spain whilst I lived there, playing at pool parties and clubs.
Since 2010 I have also DJ'd at a local community radio station in Northampton, I had no intention of becoming a presenter and was just helping edit and prepare interviews but one day I was asked to cover a Show so I decided to go on air. (you could just about hear me on the mic!) But I caught the radio bug which I'm sure any presenter will tell you it is very contagious and which I have to this day.
In 2019 I was chosen as a finalist for Slipmatt's Mixfactor competition to DJ Poolside to win the competition. Unfortunately I didn't win but it was a real experience.
I then joined My DJ Hub in 2020 ran by Terry Hooligan, Slipmatt and Mark XTC. Thanks to My DJ Hub I have had the chance to meet some great people, DJ some great events and thanks to the Hub I am now part of Eruption Radio and the journey continues…