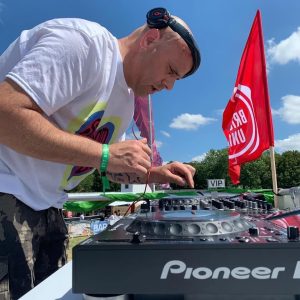 Martin's sound is mainly newer remixes and original versions of classic house and Old Skool rave anthems. He is also known to dip his toe into modern styles such as techno and tech house, and sometimes even D&B/Jungle.
From Superfly at The Square, to Dirty House Inc, to Universoul all-dayers, to Groove Machine; Martin has been involved in the Harlow event scene for over 20 years, but it's been the last few years that things have really taken off.
Following his set at the first EOS event in October 2017, Martin achieved a life long dream and found himself booked to play in Ibiza for Detached Parties in May 2018, this led to a phone call from Slipmatt asking him to play an extra set on the final night at Plastik.
After Ibiza, He played his first ever sets in London clubs and started to see many of the mixes that he uploaded to Mixcloud hit the top 15 of their respective charts.
On the back of this Martin decided that Harlow needed an Old Skool event and launched Old's Kool in November 2018.
2019 saw Martin re-booked to play in Ibiza for Slip Back In time were he played at both Essigi and the boat party. Martin also played his first ever festival sets, with appearances at Moondance X Sunbourne Festival and Back of Beyond Festival.
In 2020 Martin was once again booked for Slip Back in Time ibiza, alongside festival bookings for Proper Fest and House & Classics Festival. The Covid-19 pandemic unfortunately saw these events postponed until 2021.
During the lockdown period Martin made his first steps into radio, starting with a monthly pre recorded show on Electric Radio. After a few months on there Martin landed a bi-weekly show on Fantasy FM in London.
In December 2020, Martin was invited to become one of the founding DJs on Unity DAB, where he stayed until February 2022.
When the world began to open up after the pandemic started to ease in 2021, Martin played at the rearranged dates for Proper Fest and at House & Classics Festival, he also played at the A State of M.I.N.D. fundraiser at Berwick Manor.
Alongside his wife Little M, he also started up a new event brand in Harlow called New's Kool to run along- side the existing Old's Kool events.
Martin joined the DJ team At Eruption Radio in February 2022 and instantly felt at home as part of the Eruption family.