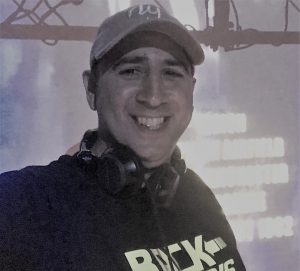 Jose's passion for dance music started in 1987 at the age of 11 when he bought his first 12-inch record (Krush – House Arrest). He lives in Liverpool but grew up in Hertfordshire and went raving in the 90s at events such as United Dance, Dreamscape, Helter Skelter, Labyrinth, Slammin' Vinyl and the Dream FM events at Adrenalin Village. Towards the end of the 90s he started going out to House events and in 2006 went to the Miami Winter Music conference (something every House Music fan should experience!)
Jose learned to mix on a pair of belt driven turntables in 1994 before buying his 1210s in 1996 which he still has! Over the years he has played Hardcore, Jungle, Drum & Bass, UKG and House. In the early 2000s he had a residency on Pressure Radio where he played for 8 years and played out at events around the South East and London, he was even booked to Headline a House Event in Poland in 2006.
When the kids came along, the headphones were hung up until 2017 when Jose did a few Old Skool charity events and the odd live stream on Facebook. However, it was during lockdown in April 2020 when Jose joined MYDJHUB (a group setup by DJ Slipmatt, Atomic Hooligan and Mark XTC) that his passion was re-kindled; he played live sets for the Hub and Raiders of the Lost Rave, had a weekly radio show on ShedFM and played at the Hardcore Takeover events (setup by DJ Sierra One).
Throughout lockdown Jose also started spending time on production and did a number of unofficial remixes (including a remix of House Arrest), and in the summer of 2021 had his first release signed by a record label.
Catch Jose every other Friday 10am-12pm setting you up for the weekend with the latest House & Tech House releases. He also loves to dig in to this collection of Old SKool Hardcore and Drum & Bass to switch things up from time to time.