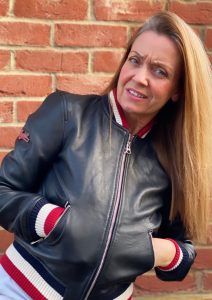 Born & Raised on the West Coast of Scotland, Baronna arrived in London in the the late 80s with her Sister, fully immmersed and embracing the Acid Warehouse Culture, frequenting Clubs like Astoria, Heaven, Busbys, Labyrinth & The Rocket on Holloway Road to name just a few! And If not there, you'd find us in an illegal, non existent air-con warehouse party somewhere in the depths of East London, risky and highly addictive, condensation dripping from the ceiling, a bar, a sound
system, a DJ, decks and Vinyl.
" I just remember this feeling of belonging and everyone loved up ! "
Great great times ! By the mid 90s Baronnas path in life had changed taking her away from Music.
" I became a young Mother at the age off 23 and returned home to Scotland. I continued to keep my connections over the years with London through good friends."
In 2015 after raising her children, she decided it was time to return to her passion and finish off that dream she began over 30 years ago!
"I started listening to Radio again constantly. However, this time round I found myself dissecting the tunes. Digging deeper into the production side of things, I knew this was the path I wanted to go down second time round. I needed to learn and I needed to learn fast, so I put myself through Music school studying a BA HONS Degree in Sound Engineering and Music Production ."
It's been challenging to say the least, juggling between being a Mummy and studying full-time !
"Radio has always been something Ive wanted to do and i'm highly honoured to being part of the Eruption Family."